JOHN GORDON GAULD
Giving Up The Ghost
May 31 - July 6, 2012
PREVIOUS
NEXT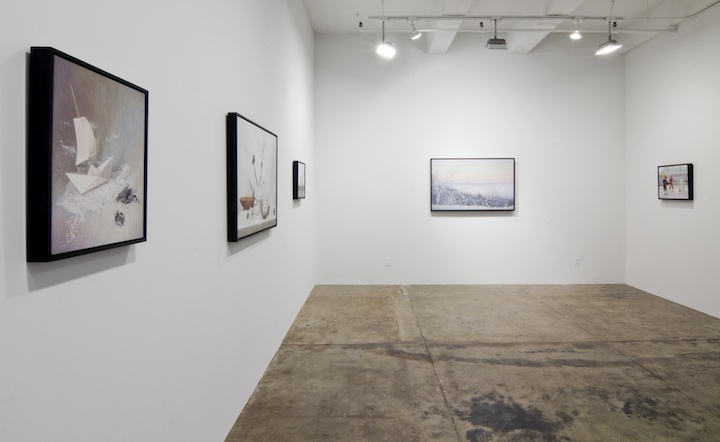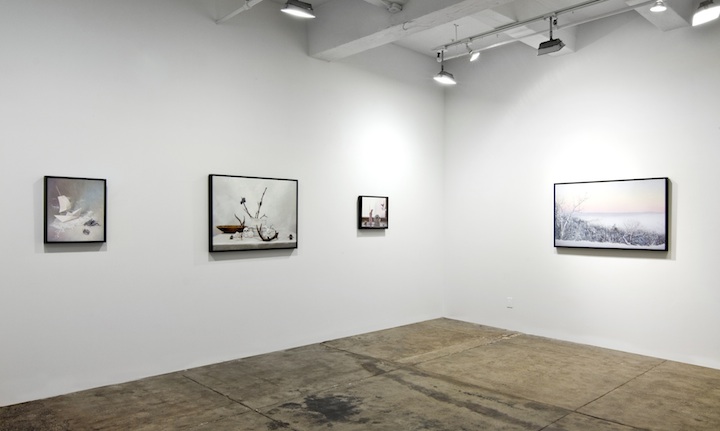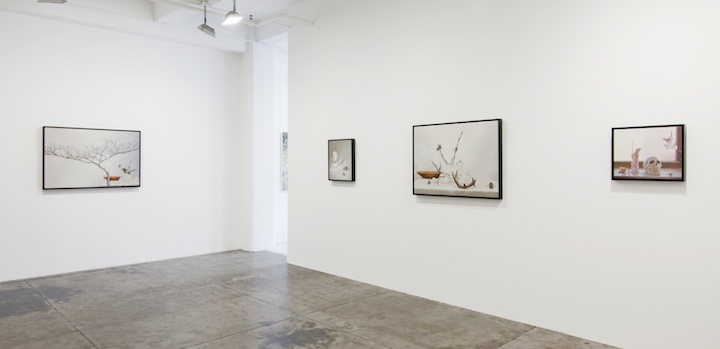 PRESS RELEASE
Salomon Contemporary presents Giving Up The Ghost, a solo exhibition of paintings by John Gordon Gauld. The artist employs egg tempera and oil to create contemporary still lifes and genre scenes that pair natural objects with those manmade in imitation of nature. Gauld's signature style, precision, and themes are reminiscent of 14th to 17th century painting, particularly the vanitas.
Historically the vanitas, a still life that serves as a reminder of death and our mortality, has a dark palette, which enhances its grim message. Gauld, however, uses natural light to produce a clean aesthetic; but dark conceptual undertones remain, concealed beneath the bright exterior. In Improving the Nick of Time and There Will Always Be an Executioner, darkness is hidden behind plastic figurines, looking as though a child had staged them. Even in a youthful, imaginary world death still looms.
Within several of Gauld's works exists a passive battle between the subjects­—organic and manmade. In Sea of Purification, a reference to the Dead Sea, it's a toy paper boat not the fish that survives the harsh conditions. In Perennial Verdure the real branch has lost its leaves, while the fake plant will be forever green. In Beneficent Society, Perennial Verdure, and Subscription to Morning Time Gauld depicts the key component of a vanitas, a skull. While traditionally the skull is symbolic of death, with its overuse in contemporary times, it has become a pop icon. The artist's use of this subject, other pop references, and kitschy found objects further indicates a satirical side in the work.
Inspired by literature, Gauld names paintings in the series after select excerpts, providing insight into the interpretation of the work. A passage from Walden is especially appropriate. Henry David Thoreau has written, "Yet I experienced sometimes that the most sweet and tender, the most innocent and encouraging society may be found in any natural object, even for the poor misanthrope and most melancholy man. There can be no very black melancholy to him who lives in the midst of nature and has his senses still."
John Gordon Gauld lives and works in New York. He has a BFA from Rhode Island School of Design and is known for employing unique and delicate materials such as plaster, silverpoint, and egg tempera. Gauld has been included in many group exhibitions and has worked with Bergdorf Goodman since 1998, creating large paintings for the store's renowned window displays. Past works can be found in the recent book Windows at Bergdorf Goodman published by Assouline, 2010. Gauld's series of beards and moustaches, originally displayed at Bergdorf Goodman, was installed at Salomon Contemporary in December 2011. This is the artist's second solo exhibition with the gallery.